概要 ~フランス語圏文学・文化コース~

Outline ~Area of French Studies~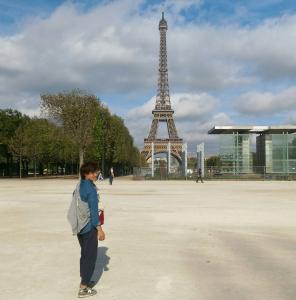 フランス語学研修後、パリにて
In Paris, after taking the French language class
仏語の文学作品や文献を読み、視野を広げる
Read the French literary works and materials to extend your perspectives
本コースではフランス語で書かれた小説・詩・批評・戯曲や文献を幅広く扱います。フランス文化が分からないとヨーロッパ文化が分からない、と言われているのはなぜでしょう。フランスはルネサンス期に古代ギリシア・ローマ文化から多くを学びつつも、17世紀にはアカデミー・フランセーズを創設し、国家を挙げてフランス語の辞書を編纂し、常に普遍性を求めてきたからです。ルイ14世の絶対王政の時代に古典主義の傑作が続々と生まれ、17世紀は「偉大なる世紀」と呼ばれています。その一方で、先住民族であるケルト人の文化も受け継いでおり、新しいところでは旧植民地のクレオール文化もあり、多様性をフランス語、合理性、共和国の理念という求心力で支えています。作品や文献とフランス語で直に接して、視野を広げましょう。
This Area broadly covers novels, poems, critiques, dramas, and materials written in the French language. Why do people say that if you are novice to the French culture, then you are novice to the European culture? That is because whilst, during the Renaissance Era, France drew upon many teachings of the ancient Greek and Roman culture, it established Academie Francaise in the 17th century, fully applied its ability towards compilation of the French dictionary and consistently pursued the universality. During the Absolute Monarchism Era under Louis XIV, many outstanding works of classicism were produced, which resulted in the 17th century being called as "the Great Century". On the other hand, the country inherited the culture of Celtic people who were prior inhabitants of the country, and in more recent times acquired the Creole culture from its prior colonies, as such there is need of centripetal forces comprising the French language, rationality, and the idea of the Republic to buttress and balance the country albeit its versatility. We encourage students to directly touch upon the works and materials in the French language, thereby extending their perspectives.

The subject of Introduction to French Literature and Culture I will give students an overview of the history of the French literary works, and thereafter lectures and seminars will provide opportunities for students to encounter various works through which they get further insights. In terms of studying overseas, we find that besides short-term training programs for the French language (because the programs are within the subjects offered at the Area, credits are obtainable), long-term studies at out affiliated schools including University of Franche-Comte, Bordeaux University, and University of Montreal are popular to our students and in fact many students take those programs.
開設している主な授業
Subjects Offered
1年次生


1st year students

フランス語圏文学・文化概論I
2年次生以降
専門科目


2nd year and subsequent year students – specialty subjects

フランス語圏文学・文化講読I~IV
フランス語圏文学・文化演習I,II
教員
増尾 弘美


Hiromi Masuo

19~20世紀のフランス小説・批評、特にプルースト


Proust's Novels, France in the Late 19th Century