概要 ~英語圏文学・文化コース~

Outline ~Area of Anglo-American Studies~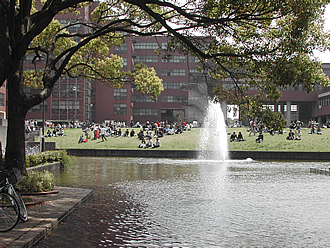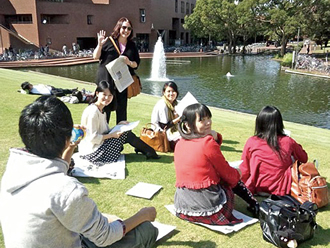 ▲ コリンズ先生の野外授業風景
Outdoor lecture given by faculty member Collins
〈読み解く〉面白さと楽しさ
The fun and delight of [reading for piercing the veil]
充実した英語力を養いつつ、英語圏の文学と文化についての理解を深めます。伝統的な英米文学研究とともに、文学理論・文化理論を踏まえて、小説・詩のみならず、映画、テレビドラマ、音楽、舞台芸術なども幅広く研究することができます。また、「アメリカ文学履修モデル」「イギリス文学履修モデル」「カルチュラル・スタディーズ履修モデル」「TOEFL550(iBT79)履修モデル」を示し、学生ひとりひとりの目標にかなった、しかも体系的な履修計画をたてることができるよう、配慮されています。確かな英語コミュニケーション能力と、英語を通じて異文化を深く理解する姿勢を身につけ、提携校への留学も視野に入れながら、学習計画を立ててください。
We strive to let students attain a high level of English language capability, and at the same time, gain good insights of the Anglo-American literary works and culture. Students are able to study into traditional Anglo-American literary works, and beyond that, study broadly, on the basis of theories pertaining to literary works or to culture, into not only novels and poems but also motion pictures, television dramas, music, performing arts, etc. The curriculum includes "American literary works credits model", "Anglo literary works credits model", "Cultural studies credits model" , and "TOEFL550(iBT79) credits model", and the students are able to make their plans to obtain credits that are suited to each one's objectives and also are systematic. We expect that students make their own study plans to acquire adequate communication skills in English as well as in-depth understanding of foreign culture through English language, while considering the possibility of studying overseas at affiliated schools.

We recommend students learn the basics through the subjects of "Introduction to Anglo-American Literature" and "Anglo-American Studies" for the 1st and 2nd year students, get broader insights through the subjects of various "Special Topic"s, for the 2nd and 3rd year students, and, when it comes to the seminars for the 4th year students, select those subjects suitable for their respective study themes. Also, in those subjects intended to help attain high levels in the English operating capability, there are lessons for a small number of students at which graduate students from foreign countries act as teaching assistants and provide support to the attending students. It is prudent for students to attend these classes and gain good understanding of the Anglo-American culture, and also acquire solid communication skills backed up by such understanding.
開設している主な授業
Subjects Offered
1年次生


1st year students

アメリカ文学史
イギリス文学史
英米・ヨーロッパ領域入門演習I
2年次生以降
専門科目


2nd year and subsequent year students – specialty subjects

英語圏文学・文化講読
英語圏文学・文化演習
英語圏文学・文化研究
文化特講(アメリカ、イギリス、カナダ)
教員
佐野 隆弥


Takaya Sano

初期近代イギリス文学・文化研究


Early Modern English Literature and Culture

竹谷 悦子


Etsuko Taketani

アメリカ文学


American Literature

中田 元子


Motoko Nakada

19世紀イギリス小説・文化


19th Century English Novels and Culture

ラフォンテーヌ アンドレ


Lafontaine, Andrée

北米映画、文化研究


Film Theory and Cultural Studies