概要 ~中国文学コース~

Outline ~Area of Chinese Literature~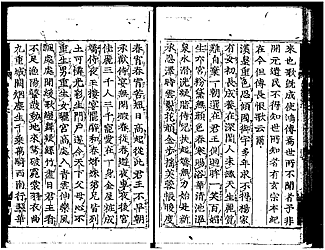 ▲絶世の美女楊貴妃と玄宗皇帝との悲恋を情緒豊かに表現した白楽天「長恨歌」の冒頭。
江戸時代に日本で出版された本で、墨で返り点や送り仮名がつけてある。
高校で習う規則と少し違う。筑波大学図書館蔵。
The opening of the Chang hen ge, the Everlasting Regrets, written by Bai Letian, which very feelingly describes the tragic love story of Yang Kuei Fei, a woman of overwhelming beauty, and Emperor Xuan Zong.
Published in Japan during the Edo Era, this book contains retrace marks and indicative kana letters in Japanese ink to show the ways to read the text in Japanese.
The rules used herein vary in part from what you learn at high schools. A collection of University of Tsukuba Library.
よりよく生きる為の糧として古典作品を味読します。
Perusal of classical literary works to live a better life.
中国文学の魅力は、懐の深さにあります。中国古典文学全体でいえば、人間が生きていく中で生じることについてはほとんどすべて誰かがどこかで作品にしていますから、考えるための題材が豊富です。一篇一篇についていえば、その作品ができるまでの文化をまとっているのが普通ですから、様々な深度での解釈が可能です。使われる言葉も一筋縄ではいきません。有名な杜甫の「春望」にある「三月」という2文字をどう捉えるか、「三ヶ月」なのか「陰暦三月」なのか、その違いだけでも、詩全体のニュアンスが変わってきます。当コースでは、作品の面白さにじかに触れて言葉に対する感性を磨き、人間に対する理解を深め、よりよく生きる道を模索していきます。
The Chinese literary works intrigue us with their greatness in coverage. Taking the Chinese classical literary works as a whole, almost all things that arise in one's course of life are dealt with and put in the works somewhere by somebody, as such there are abundant items and materials useful for giving thoughts. Taking each literary work, it usually carries along the culture of the times up to when it was written, thus is susceptible of multiple ways and depths of interpretation. The words and phrases used in the works are also far from simple. For example, how do you understand the word of "three month" that appears in the "Chun Wang", the Spring View, written by the highly reputed poet Du Fu and expressed in just two Chinese letters? "Three months" or "the month of March under lunar calendar"? This difference alone can lead to derivation of different nuances of the whole poem. This Area provides an opportunity for students to develop sensitivity to words and phrases by directly touching on the marvels of the literary works, deepen insights into the human beings and explore the ways of living a better life.

At the outset, students take the subject of Studies in Comparative Culture: Japanese and Asian Studies and Introduction to Chinese Literature, and gain basic knowledge and skills required to study the Chinese literary works. Then, students advance further and definitively into the world of the Chinese literary works by attending lectures including History of Chinese Literature. Next, students participate in seminars to attain a higher level of specialty in the Chinese classical literary works. During this period, students take the subjects of Seminar in Reading Chinese Literature offered at this Area, Chinese Basics offered at CEGLOC, and other subjects offered within Division of Japanese and Asian Studies as well as subjects offered at other Divisions such as Division of Philosophy and Religious Studies, all to the extent necessary. Eventually, students put forth all of their efforts towards completion of their graduation dissertation.
開設している主な授業
Subjects Offered
1年次生


1st year students

日本・アジア領域入門演習III
中国文学概論(標準履修年次=1・2年)
2年次生以降
専門科目


2nd year and subsequent year students – specialty subjects

中国文学史I・II
中国文学講読I~IV
中国文学演習I~IV
教員
稀代 麻也子


Mayako Kishiro

六朝文学


Six Dynasties Literature